Rangamani. To students and teachers, she was Rangamani Miss. To those who knew her personally she was "Mani Ma." Where did I fit-in that I began to call her by her name? No, no disrespect implied---it was a privilege she accorded me. Since Tara Miss, the Principal and I were from the same town and alma mater, I called her by her first name—Tara. With her permission of course!! Rangamani quickly quipped "same with me!"
These thoughts are vintage really. Just short of half a decade old. I walked into the Vidya Mandir campus fully aware of the wonderful reputation the school had earned. My husband's cousins had walked the sands of the playground long before I set foot there. I fitted all the requirements of admission—such as vicinity residence, "family member precedence in the school" being foremost.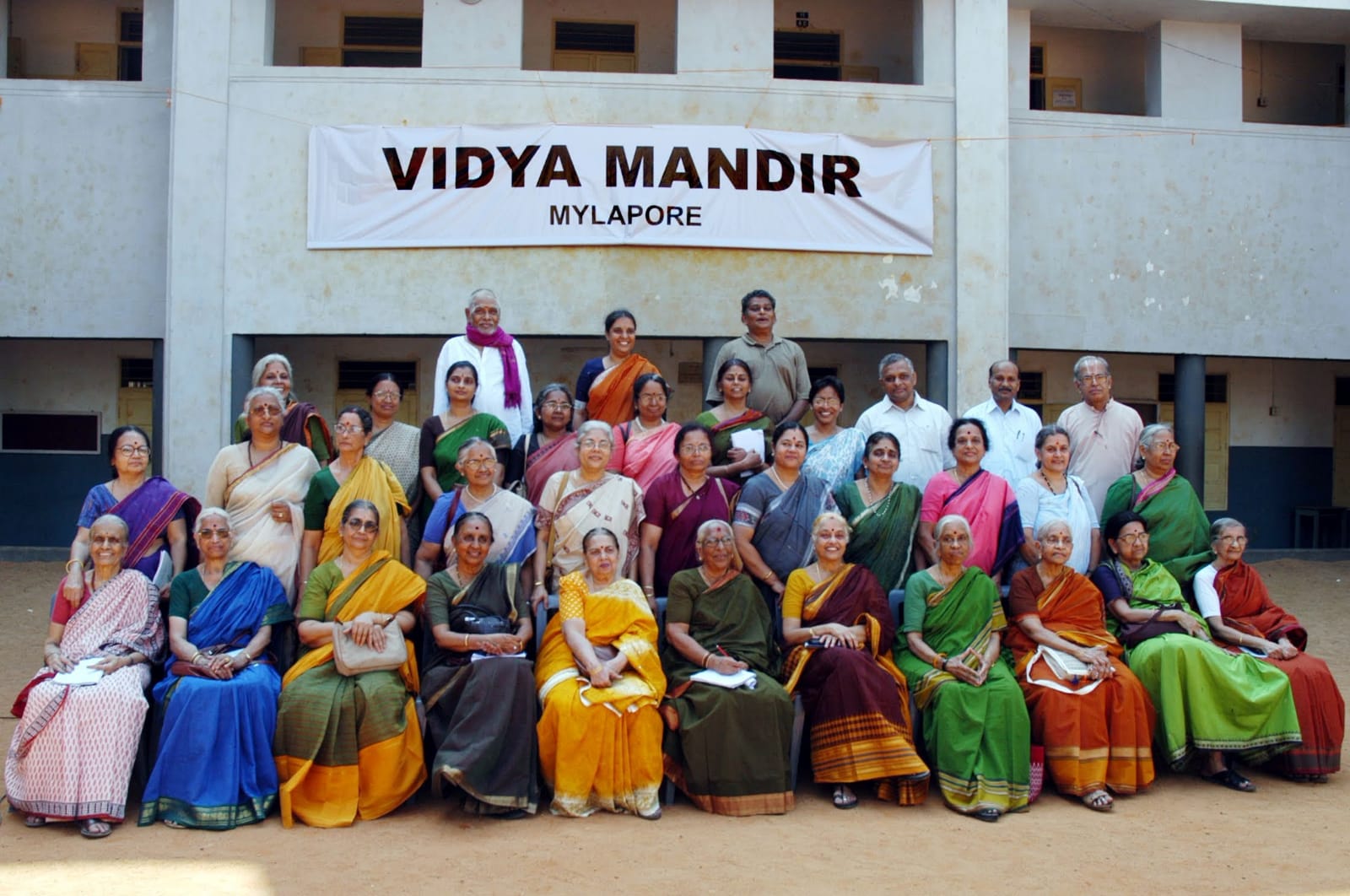 Come the opening day of school. I, an eager mother, holding my son's hand, walked into the crowded play area which was full of parents, siblings and students. You could witness joyous meetings of classmates and friends, parents with smiles of relief having received the admission and the delight of coming back to school after holidays.
Rangamani, in her trademark white blouse, single braid at the back, walks up to the parents speaking gently and cheerfully. Her Mona Lisa smile makes for a huge sense of comfort and welcome. I greet her and introduce my son. She points to him the room which will be his class room. The bell goes off. Silence spreads after children have found their place for the new session. The Correspondent faces the school, with the Principal, and teachers take their respective places. After the school prayer, a few words of welcome and guidance are heard. Teachers take charge of their wards and walk into their new classrooms. The energy in the atmosphere is replete with the enthusiasm of new beginnings. Parents retreat and I happen to cross Rangamani's path, who very kindly enquired about the family members who studied in the school in the past. That was my first meeting. I had many occasions to get to know Rangamani better through regular interactions. Thus began an amazing relationship.
Fast forward to two years later— The Children's Theatre in the then Madras used to screen movies for children and about children as well. I had decided to catch a noon show of the movie "The lies my Dad told me". I decided to pick my son from school, excuse him for the afternoon, and take him to the movies with me. I reached the school when the lunch bell rang. My son came running out to meet me. When I told him about the movie plan, his response was "No, I am not coming because the rule is we cannot cut class for a movie!" I was surprised where he got that from. He said his friends told him so. Rangamani was on the playground. She came up to meet us. I told my son, "I will take permission from her", to which he said "if others cannot go, I don't want to." Rangamani asked about our conversation. On hearing about our exchange, she said, "Padma you go, I will get him some lunch and you can pick him up later." That's what I did. The following morning meeting her in the school, she told me she took my son's side because he was wanting to be like all others— "if they couldn't go, he shouldn't" was his argument. That's the way she honored the child's response in a moment of cross-roads decision making — and gave me a huge lesson in just a few words
Being with her on the playfield at any time was an enriching opportunity. She was so diligent about overseeing and making sure that many skirmishes were dealt with justly, and with no arguments! Most of all she never carried them in her mind when the children were back the following day. No judgmental stance, no harsh tone. Even her reprimanding posture came from a lot of kindness within. Most teachers succumb to using sarcasm with kids when mischief is encountered. Students have even experienced mean ones. I learnt from Rangamani that this was a negative approach. She would say "If a child has to continue to learn from you, they should know 'you care'."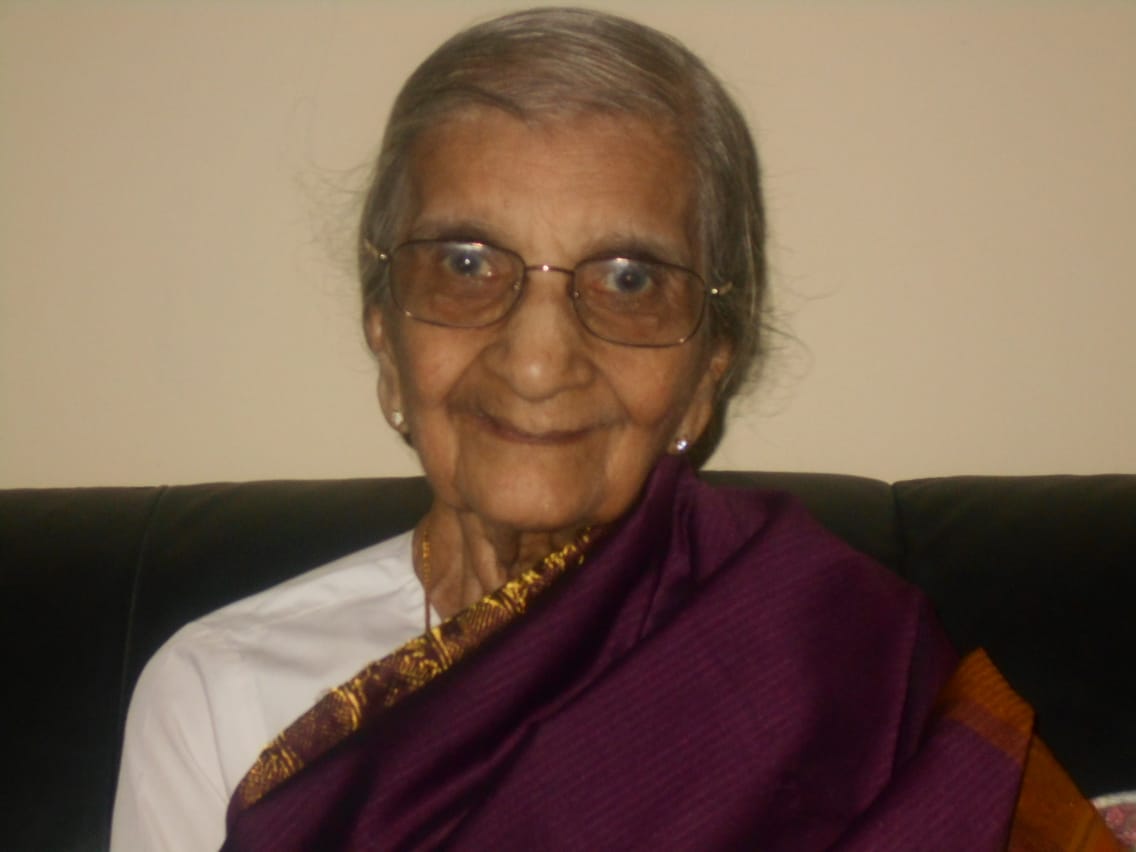 In another instance, the school nominated me to attend an International Children's Conference in Delhi. Without checking the date, I agreed. When I discovered that it would clash with the South Indian Diwali day, I was torn and wanted to withdraw. I spoke to Rangamani. She told me that this would be a unique opportunity, while Diwali would come year after year. She concluded by saying, "The decision is yours but think of the exposure you will have." As I got home and spoke with the family, they agreed that it was worth going, and Diwali could be celebrated a day later. So I went, and when I got home with a big package of sweets from Delhi as a special treat, I found a few tins of delicacies on the table. Where did they come from? The day before Diwali, Rangamani had come home. She always travelled in a rickshaw. She brought with her sweets and savories and some fruits. She told my kids to have a bath the following morning and partake of the goodies as is traditional of Diwali! She stood there taking my place as a scaffold only so that my kids did not feel left out! No words can describe how I felt at that moment. Of course, I must be blessed to have her as my guide.
When an erstwhile principal of the school sought her help to recommend an Early Childhood person to engage with him in his enterprise to raise the awareness of the suburban schools about the critical importance of early childhood, she recommended me to him. My association with him spanned well over a decade and a half. It opened up a vast arena that covered the length and breadth of Tamil Nadu, besides introducing me to a varied student profile, which a city bred person like me can barely imagine. I marvel at how this exposure humbled and enriched me. Rangamani truly sent a mentor to me. Thank you Rangamani!
Stories have come down the years of what a subtle yet powerful impact she has had on the student community that had the opportunity of her stewardship.
To finish with her lines "only when children experience kindness in a situation that they perceive difficult, will they be willing to carry kindness as a character forward in their lives." An epitome of kindness and gentleness, Rangamani, thank you for asking me to step into your parlor, for it did change the course of my life's engagement.